Development
Approaching 4,000 franchised and company owned restaurants in 40+ countries around the globe. We are poised for growth. Be a part of the Carl's Jr. expansion.
Map label color: red - 16 Markets Opened as of 2010
American Samoa
Bahrain
China
Egypt
Jordan
Kuwait
Lebanon
Malaysia
Mexico
Oman
Pakistan
Qatar
Saudi Arabia
Singapore
UAE
USA
Map label color: yellow - 20 MARKETS DEVELOPED 2011-2023
Australia
Cambodia
Canada
Chile
Costa Rica
Denmark
Ecuador
France
Guatemala
India
Indonesia
Iraq
Japan
Kazakhstan
Kenya
New Zealand
Nicaragua
Palestine
Panama
Puerto Rico
Spain
Turkey
Map label color: green - Near term target markets
Germany
Hungary
Indonesia
Ireland
Japan
Israel*
Morocco*
Peru
Poland
United Kingdom
Uruguay
Sub-Saharan Africa
Switzerland*
*Signed Territory
Our facilities are designed to accommodate a variety of location shapes and specs.

FLEXIBLE FORMATS
Our free-standing restaurants are designed for maximum efficiency and productivity with ergonomic layouts and flexible floor plans. Brilliant innovations improve workflow and restaurant management.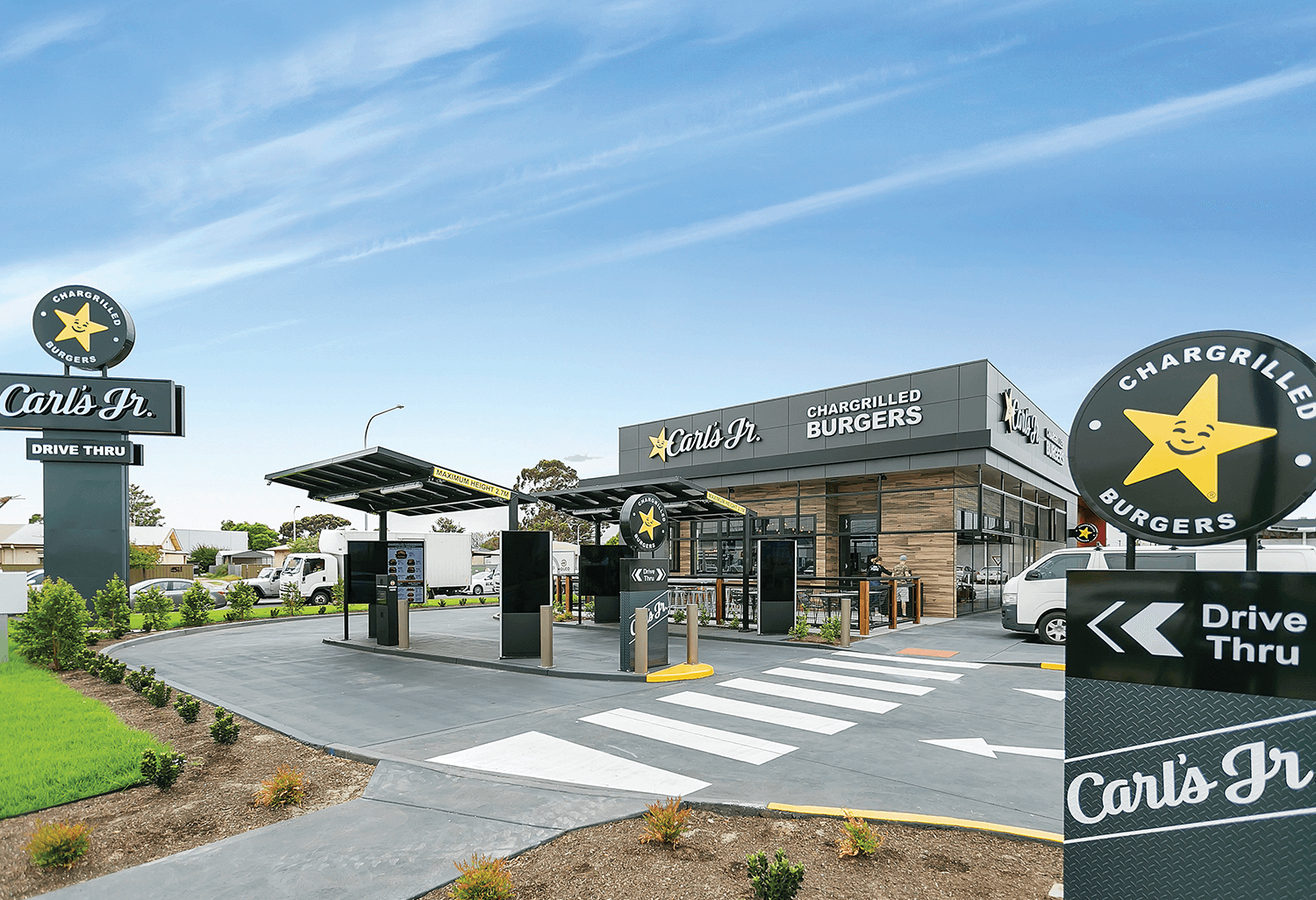 And for 2023 and beyond, CKE is developing and refining a cutting-edge "Omni Channel" prototype, fully adapted for the post-pandemic world.
FREE-STANDING/DT
Building size - 180 m2+
Drive-thru
Seat count - 103 + 45 patio
End Cap options available
Playground option in certain markets
SHOPPING CENTER INLINE
Building size - 140 to 210 m2
Seat count - 45 to 90
HIGH-STREET-INLINE
Building size - 150 to 240 m2
Seat count - 45 to 90
Playground optional in certain markets
FOOD COURT/EXPRESS
Building size - 35 to 85 m2
Common area seating
End-Caps
Carl's Jr. restaurants can be built into an existing structure. Our flexible end-cap designs minimize capital investment risk and are a cost-effective way to enter smaller communities.
Conversions
The conversion of an existing restaurant may reduce construction costs and has been successfully executed in many markets internationally. Please contact us if this may apply in your market.
Non-Traditional
Carl's Jr. restaurants can be designed to fit into almost any space including airports, amusement parks, military bases, motorways, and train stations.